Chiropractic Care
A chiropractor's goal is to restore the function of your spine. At Floreat Chiropractic, we seek to find areas of your spine that aren't working properly, then correct the proper alignment to give you a full range of motion and relieve your pain.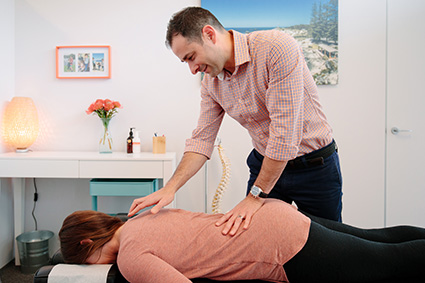 The many conditions that chiropractors commonly see include:
Headaches
Low back pain
Neck pain
Sciatica
Shoulder pain
Our Chiropractic Techniques
We provide chiropractic adjustments that primarily utilise a hands-on method. Though it may require a firm touch, it is not aggressive. We also offer instrument-based adjusting with the Activator® and have a table with a drop piece that gives a gentle adjustment.
The Gonstead Technique is commonly used for our patients to break down scar tissue and improve mobility. Additionally, we have soft tissue techniques to address all structures in the body and can offer an adjustment using only these methods or the adjusting instrument if you would prefer that to a manual adjustment.
New to Chiropractic Care?
If you've never had exposure to chiropractic care before, or are unsure what chiropractors do, please take a few minutes to watch this short video.
How Can We Help?
Contact Floreat Chiropractic today to arrange your first appointment! Saturday bookings are available that work well for busy schedules.
---
Floreat Chiropractic | (08) 9284 9444